Renewed hostel in Brussels
Hostel Bruegel is back in business
BRUSSELS - Wednesday September 20th , was the official opening of the renewed and extended Bruegel hostel in Brussels. Bruegel is one of the oldest hostels in Belgium, so after 35 years of intensive use, the building needed some renovations. It's the closure of major renovation works and an extension process which started back in October 2015.
More beds and more comfort
The existing building received a complete makeover and there is a new extension with 24 extra rooms, a lounge and a meeting room. The total capacity has increased from 139 to 191 beds.
Special attention was given to the common areas: "Hostelling is about discovering new places, but also about meeting new friends and cultures. In the common areas you can get to know other travellers and exchange tips", tells Tom De Bruyckere, president of VJH, the Flemish Youth Hostel Association. "With this in mind, we created a cosy lounge, which is connected to the courtyard, a quiet and nice area where guests can escape from the city hustle." There's free WiFi in the entire building – also in the rooms - and breakfast is included.
Say HI to Brussels
Looking for a great place to stay in the heart of Brussels without spending a fortune? It's possible! Bruegel hostel is located about 500m from Central Station. Brussels' top attractions such as the Grote Markt, Manneken Pis, Magritte Museum,… are all within easy reach.
But there is so much more to discover in this vibrant and colourful city! Such as the
Marolles
and the
Sablon
, two neighbourhoods near the hostel where you can get a taste of the real Brussels "couleur locale".

These two historic and charming districts are next to each other but appear to be two extremes: on the one hand a chic and affluent neighbourhood (Sablon), and on the other an authentic working-class area. But they are both equally charming. In the Sablon you can wonder around in exclusive shops, art galleries and antique dealers. In the Marolles you can also find antiques, but for a much cheaper price. Typical here are the vintage shops, authentic bars and of course the world-famous daily flea market on Place du Jeu de Balle. Another must is Poelaert Square, that you can access via the Marolles elevator. From the square you can have an amazing view over the city.
Book your stay
Depending on your budget you can choose your type of accommodation:
From €18,25 per person
Budget rooms (4 beds) with shared bathroom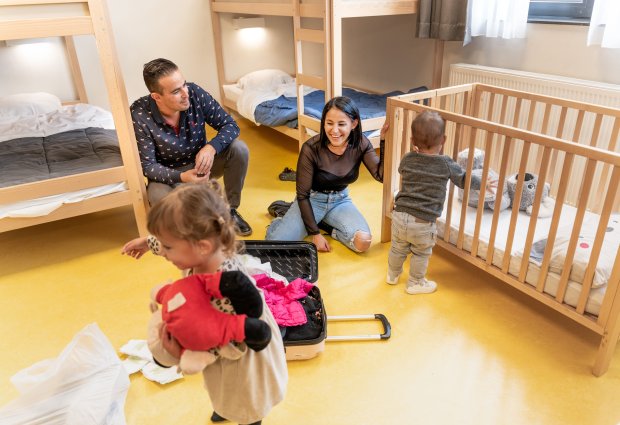 from €23 per person
Comfort rooms (3-4 beds) with ensuite bathroom
from €27,30 per person
Twin or Double rooms with ensuite bathroom
from €31,50 per person
Studio for 2 people with ensuite bathroom
Benefits with your HI membership card
10% discount on your accommodation

10% off your drinks at the Backpackers Bar
Benefits for families with children:
Free cot (on request)
Free stay for children under 3 years
Discount for children under 16 years