Would you like to stay in a hostel during your trip to Ghent, Belgium? Our budget hotel in the centre of Ghent is the perfect accommodation for travellers who want to capture the true essence of the city and meet likeminded spirits. The hostel combines comfort and aesthetics with fair and affordable pricing. You won't find a better budget hotel in Ghent!
Renovated hostel with an urban feel in Ghent
De Draecke Hostel is situated in the historic city centre of Ghent, just 150 metres from Gravensteen Castle and the Graslei harbour. Take your time, because all the sights are within easy reach from the accommodation. It's a modern hostel for groups, families and solo travellers who are looking for a comfortable and quiet place to stay in the centre of the city. Relax in one of the 30 comfortable rooms with an en-suite bathroom or take a break in the lounge or at the bar. This budget hotel in Ghent is one of the best places for accommodation in Belgium!
Ghent, an eclectic mix of young and old
Nowhere in the world can you so seamlessly move from the 14th to the 21st century and back. In Ghent, the city of art, you can immerse yourself in history in Gravensteen Castle, churches, fantastic museums and antiques shops or stay firmly in the present at one of the culinary hotspots, car-free shopping streets or at a bar on the Graslei. The people of Ghent certainly know how to party, as shown by the famous Gentse Feesten (Ghent Festival).
Facilities
Meeting rooms
Lounge
Bar
Luggage storage
Lockers
Bike parking for 6 bikes
Kids corner
Restaurant for groups (upon request)
Free WiFi in the rooms and in the common areas
Vending machine
1 meeting room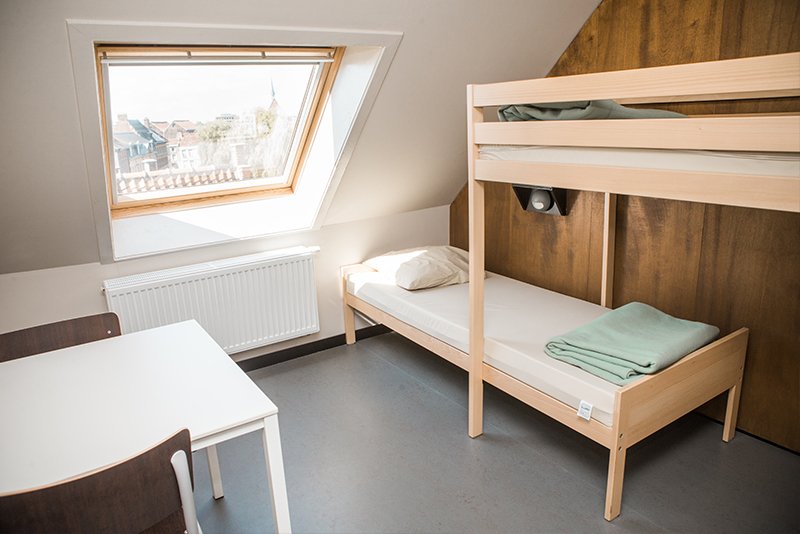 Rooms
119 beds in 30 rooms
6 rooms for 2 people (ensuite bathroom)
4 rooms for 3 people (ensuite bathroom)
10 rooms for 4 people (ensuite bathroom)
5 rooms for 5 people (ensuite bathroom)
5 rooms for 6 people (ensuite bathroom)
Hostel rules
Reception: from 07:00 to 23:00
Check-out: 10:00
Breakfast: from 08:00 to 09:30
Rooms available from: 15:00
Hostel accessible 24/24h after check-in
Check-in until 22:30
No pets allowed
No smoking allowed
Opening period
from 2 January 2023 to 31 December 2023
from 2 January 2024 to 31 December 2024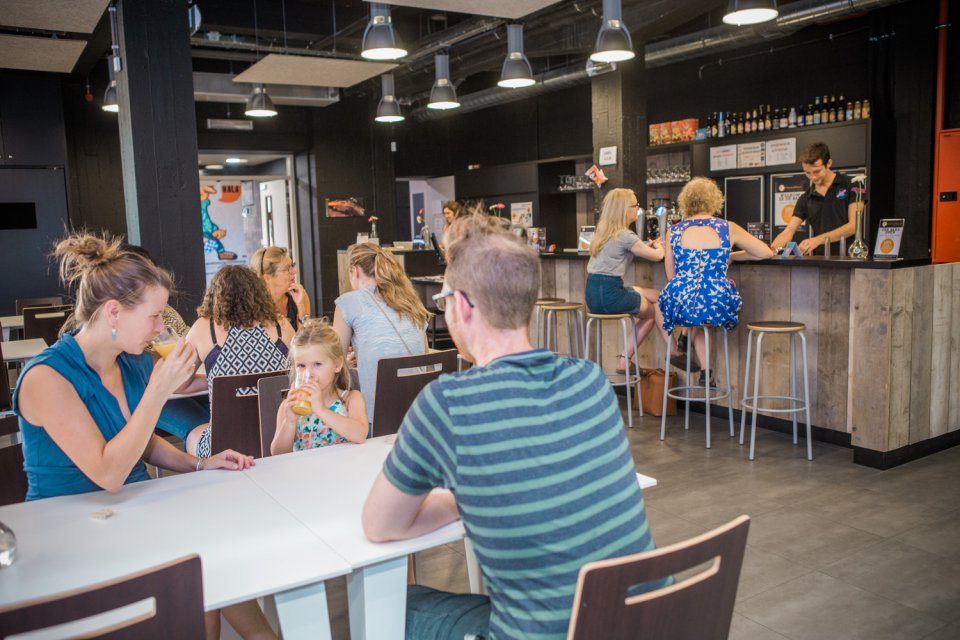 Family-friendly extras
Board games
Free cot (on request)
Free stay for children under 3 years
Baby chair
Discount for children under 16 years
Microwave
Play corner
Good to know
This accommodation in Ghent offers you a set of bed linen upon your arrival. You can rent towels at the hostel for 1,50 euros per towel or bring your own or rent one at the hostel. Breakfast is always included in hostels in Belgium. You can find more information in the frequently asked questions.
Discover Ghent the authentic way
Would you like to discover Ghent while staying in this hostel? Check the availability of this budget hotel by using the online booking tool on this page. If you have questions about this accommodation in Ghent, you can ask them by emailing gent [at] vjh [dot] be or calling +3292337050. If you have questions about our organisation, Vlaamse Jeugdherbergen, or about hostels in Flanders in general, please contact info [at] vjh [dot] be or +3232327218. Are you going on a trip elsewhere in Flanders? Take a look at our other hostels in Flanders. We also have affordable accommodation in Bruges, for example. If you're looking for a budget hotel in Ostend, there's a beautiful hostel in Ostend as well.